The Capital Area Council of Churches (CACC) was founded in 1941 to foster ecumenism and faithful witness through service, advocacy and celebration. Over the years, membership has grown to about 90 faith communities in the Capital Region of New York State.
In the spirit of "Serving God by Serving,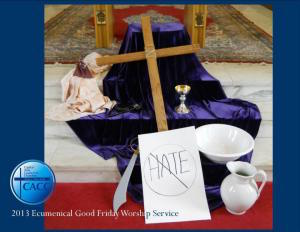 Others" CACC sponsors and participates in a variety of programs that address societal needs, particularly homelessness and hunger. For example, CACC sponsors the Emergency Overflow Homeless Shelter in Albany and, in collaboration with member congregations and social service organizations, raises and provides funds for food pantries and soup kitchens.
To foster the spirit of ecumenism, CACC offers a range of interfaith worship services, celebrations and forums. Among these are the Ecumenical Witnesses of Baptism, the Good Friday service and annual musical celebration.
CACC is governed by an Assembly that meets three times a year. Updates on Assembly actions, as well as organizational news, are available in CACC's newsletter The Connection.
For current news, check out our Facebook page!